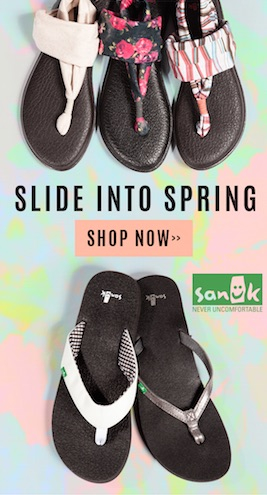 Get ready for yoga, or just relaxing with Sanuk . . .
Meditate every step of the way with the Yoga Sling 2 from Sanuk! The Yoga Sling 2 features a two-way stretch knit upper, comfy and supportive heel sling, cushioned yoga mat footbed, and durable rubber Happy U outsole. Several colors and patterns available.  Vegan and vegetarian friendly, too!
Step lively into the Yoga Mat Sandals from Sanuk! Made from the same squishy material as a yoga mat, the Yoga Mat Sandal cushions each and every step you take.
Stop by a Journeys store today and see the full collection of Sanuk sandals. Selections may vary from store to store.